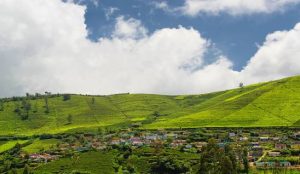 Day 1: Arrival in Coimbatore – Ooty
Arrive at Coimbatore International Airport and meet your guide.
Drive to Ooty, a charming hill station in the Nilgiri Hills.
Check-in at your hotel in Ooty and relax after your journey.
Spend the rest of the day exploring the local markets and enjoying the pleasant climate of Ooty.
Day 2: Ooty Sightseeing
After breakfast, set out for a full-day sightseeing tour of Ooty.
Visit the Botanical Gardens, where you can see a variety of exotic plants and flowers.
Enjoy a scenic boat ride on Ooty Lake, surrounded by picturesque landscapes.
Explore Doddabetta Peak, the highest point in the Nilgiris, offering breathtaking views of the surrounding hills and valleys.
In the evening, you can take a leisurely stroll through the charming streets of Ooty.
Day 3: Ooty – Mysore
After breakfast, check out from your hotel and drive to Mysore, the cultural capital of Karnataka.
En route, visit the famous Bandipur National Park, known for its rich wildlife and diverse flora.
Reach Mysore and check-in at your hotel.
In the evening, visit the iconic Mysore Palace, illuminated in all its grandeur.
Day 4: Mysore Sightseeing
After breakfast, set out to explore the sights of Mysore.
Visit Chamundi Hill and the Chamundeshwari Temple, offering panoramic views of the city.
Explore the St. Philomena's Church, an impressive neo-gothic structure.
Visit the Brindavan Gardens and witness the musical fountain show in the evening.
Day 5: Mysore – Wayanad
After breakfast, check out from your hotel and drive to Wayanad, a picturesque hill district in Kerala.
Reach Wayanad and check-in at your hotel.
In the afternoon, visit the scenic Pookode Lake and enjoy a peaceful boat ride.
Spend the rest of the day at leisure, surrounded by the tranquility of Wayanad.
Day 6: Wayanad – Bangalore
After breakfast, check out from your hotel and drive to Bangalore, the Silicon Valley of India.
En route, visit the mesmerizing Banasura Sagar Dam, the largest earthen dam in India.
Reach Bangalore and check-in at your hotel.
In the evening, you can explore the vibrant markets and eateries of Bangalore.
Day 7: Bangalore Departure
After breakfast, embark on a half-day city tour of Bangalore.
Visit Lalbagh Botanical Garden, an exquisite garden showcasing a diverse collection of plants.
Explore Bangalore Palace, reflecting the architectural elegance of the bygone era.
Depending on your departure time, you can indulge in some last-minute shopping for souvenirs.
Transfer to Bangalore International Airport for your onward journey, bidding farewell to the delightful memories of your South India tour.
This itinerary offers a perfect blend of scenic beauty, cultural heritage, wildlife encounters, and city exploration, showcasing the diverse and captivating aspects of South India. Feel free to customize the itinerary based on your interests and preferences to make your trip truly unforgettable. Enjoy your journey through South India!